Minneapolis and St. Paul Allergy Prevention and Clean Air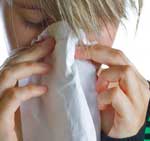 Most household dust contains mites, mold, mildew, pollen and animal dander. Many of these contaminants are circulated through the central air systems in most homes and can aggravate the symptoms of asthma and allergies.
After we have cleaned your air duct system to remove the dust, mites, pet dander, mold and other allergens, we at Done Right Air Duct Cleaning offer an EPA-registered sanitizer for air ducts which sanitizes the newly cleaned air duct system. This sanitizer is environmentally safe for use in dwellings where children or pets are present, in nursing homes, and in businesses and leaves behind a fresh scent.

This EPA-registered microbial sanitizer will inhibit new mildew and/or mold growth in your air ducts, both of which are known allergens and dangerous to breathe large amounts of.
Cleaning your air ducts can greatly reduce the amount of allergens in your home or business. If you suffer from allergies and think it may be because of the allergens in your home's air duct system, call Done Right today for a free inspection. We will show you just what is in your air ducts before we clean them, and then we will show you the air ducts after cleaning.
Call Done Right Air Duct Cleaning today for prompt, courteous, knowledgeable and thorough air duct cleaning service.